Sales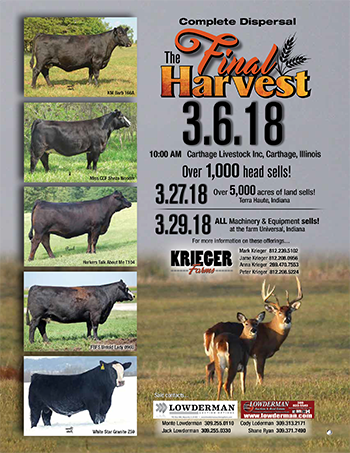 March 6th - The Final Harvest Complete Cattle Dispersal Sale - at the Carthage Livestock Auction in Carthage, Illinois
The Complete Dispersal of Krieger Farms Cow Herd. Featuring Over 1,000 Head.
• 250 Simmental & SemAngus Cows
• 50 Pregnant Recipients
• 50 Angus Cows
• 15 Hereford Cows
• 15 Herd & Yearling Bulls
• 90 Yearling Replacement Heifers
• 100 Fall Calving Pairs
• 250 Spring Calving Cows, many with calves
• 150 Young Open Cows (Ideal for Recipients)

Cattle will be sorted and offered individually and in groups. Auction to be conducted at Carthage Livestock, Inc, located in Carthage, Illinois. For further information contact Lowderman Auction and Real Estate.

Can't make it to the auction?
Bid online with DVAuction.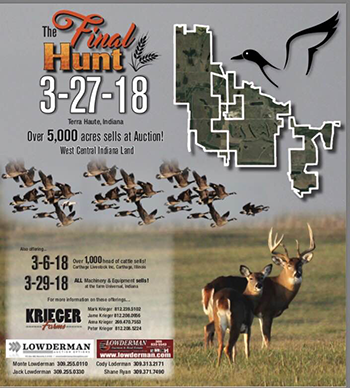 March 27th - The Final Hunt Complete Land Sale - at The Landing at Fort Harrison in Terre Haute, Indiana
Features over 5,000 acres of West Central Indiana Land that sells at public auction. Selling excellent waterfowl & deer hunting and recreational land; irrigated tillable farmland most with pivots and most qualifies as organic; fenced and cross fenced pasture land with improvements & livestock facilities, and timber land. The entire property has numerous ponds and lakes. Contact 309-252-2243 for all real estate inquiries.
- Tracks 1-53 Map
- Track 54 Map

Can't make it to the auction?
Bid online with Auction Options.
March 29th - The Finale Complete Equipment Sale - at Krieger Farms in Universal, Indiana
The final day of Krieger Farms Liquidation and Closeout. Selling a full line of John Deere and Case IH farm machinery and equipment; a full line of hay equipment; and livestock equipment and trailers and show equipment.
Can't make it to the auction?
Bid online with Proxibid
For the most current information follow us on our Facebook page "Krieger Farms."
If you want to be added to the mailing list for any sale catalog or for more information please fill out contact form.